Welcome
Personalized medicine and pharmacogenomics (the influence of genetics on drugs) is here. It is in its infancy and we all will watch it grow. From healthcare professionals to the general public, pharmacogenomics and the broader area of personalized medicine will present a learning curve.
This blog is made possible through an individual making their genetic information available.
As we learn what this individual's genetics are telling us...and what it is not telling us, we will discuss it. I am sure there will be many questions. We will have individuals from pharmacy, genetics, ethics, law, and other disciplines adding their expertise and thoughts to the discussion. I sincerely hope you will contemplate the information, formulate your thoughts, and participate in the discussion!
Would you want to know?
By DFK | September 17, 2013 at 07:08 AM EDT |
18 comments
The implications of Alzheimer's disease (AD) are of concern, especially early onset. My anxiety has now 'peaked' as I scroll down to see my results. I was not anxious at all until I got to the actual point of looking at these results.
The APOE gene has been associated with risk of AD. There are three variants of the gene that infer different risk. These variants are determined by two single nucleotide changes (polymorphisms (SNPs)).
For me, the results indicate that for the first SNP of interest, my genotype is CC (remember one from each parent). The second SNP of interest indicates a genotype of TT.


Ok, what does this mean? First, the rs number is a specific and consistent number used to note that SNP. i.e., that single change at that point in the APOE gene. The combination of SNPs is used to determine the APOE variant. For me, the C + T (in both cases, I had two Cs and two Ts) = the variant E3, so with a C and T from mom and a C and T from dad, I am an E3/E3.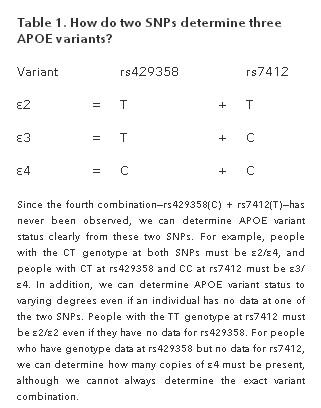 As it turns out, this variant inparts 'normal' risk. While I am a bit relieved that I was not E3/E4 or E4/E4, because E4 imparts increased risk of earlier onset AD, I know that more than 50% of people with AD do not have the E4 variant. The E4 variant, again, appears to impart increase risk of early onset AD. The E2 variant may be 'protective'.
In a study of over 3400 individuals, the frequency of the different APOE variants were:
E3/E3 - 63.9%
E3/E4 - 19%
E2/E3 - 13.7%
E4/E4 - 1.7%
E2/E4 - 1.3%
E2/E2 - 0.4%
Remember that your DNA does not change throughout your lifetime, so what you have DNA wise is what you have!
So I ask...do you want to know your risk of AD based on genetic markers (SNPs and gene variants)? If so, why? If not, why not? What are some of the ethical, legal, and social implications?