Welcome
Personalized medicine and pharmacogenomics (the influence of genetics on drugs) is here. It is in its infancy and we all will watch it grow. From healthcare professionals to the general public, pharmacogenomics and the broader area of personalized medicine will present a learning curve.
This blog is made possible through an individual making their genetic information available.
As we learn what this individual's genetics are telling us...and what it is not telling us, we will discuss it. I am sure there will be many questions. We will have individuals from pharmacy, genetics, ethics, law, and other disciplines adding their expertise and thoughts to the discussion. I sincerely hope you will contemplate the information, formulate your thoughts, and participate in the discussion!
Chest Pain, Coronary Artery Blockage and My Antiplatelet Therapy!
By DFK | October 09, 2013 at 10:08 AM EDT |
6 comments
One of the aims of personalized medicine is to optimize drug therapy. This is a result of providing the patient with the right medication, which is going to work for them (efficacy), while avoiding adverse effects (adverse drug reactions). Avoiding adverse drug reactions will make the patient adhere to taking their medication. This is a "win-win-win" situation.
Here are my results relative to the drug metabolizing enzyme CYP2C19 and the drug clopidogrel (you may have seen commercials for the brand name Plavix) and these results would be very important if I were to requires an antiplatelet drug to keep my blood from forming dangerous clots that could result in a second heart attack and death...I will explain.
Let's say I suffer a heart attack and it is noted that one or more of the arteries that supply my heart tissue (muscle) are blocked with plaque. This can result in another clot and cause another heart attack, or death. It is somewhat common in this situation to have a stent (tube) placed in the arteries to keep blood flowing. This puts me at risk for a clot to form at the site of the stent and another heart attack. It is standard to give people with a stent at least two antiplatelet drugs. Typically aspirin and another drug. This can help prevent clot formation. One of the best selling drugs for this purpose is clopidogrel (Plavix). Clopidogrel is a prodrug, meaning it needs to be activated by the body to work. The gene that produces the metabolizing enzyme, a drug target protein, that 'activates' clopidogrel is CYP2C19. Notice the gene is italicized whereas earlier, the enzyme of the same name was NOT italicized. This is by convention and I thought I would just 'throw this information in'.
The issue is...that my genetics will dictate whether clopidogrel will work for me. Some people have a CYP2C19 gene that produces an inactive (loss-of-function) enzyme. Remember that we get a gene from each parent, so an individual can have two 'normal' genes, one 'normal' and one 'loss of function' gene or two 'loss-of-function' genes. There are other forms too, like a 'gain-of-function', but we will not discuss this further. We have a way of defining these potentials:
*1/*1 = normal/normal = normal (extensive) metabolizer
*1/*2 (and other *s, e.g., *3) = normal/loss-of-function = intermediate metabolizer
*2/*2 = loss-of-function/loss-of-function = poor metabolizer
Data shows that intermediate metabolizers and poor metabolizers should receive a drug other than clopidogrel.
So, the question is what am I? Well, here is the data: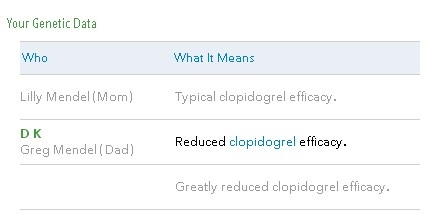 Notice a couple of things. First, the rs#. I think I mentioned this earlier, but if not... the rs# is a specific and unique identifier of a given SNP as found in the National Center for Biotechnology Information database called 'dbSNP'. So rs4244285 refers to the above SNP in the specific position on the CYP2C19 gene where A replaced G. G is the 'normal', most common base found at that position, so one parent passed along the A instead of a G. That single nucleotide change (polymorphism) resulted in me not being able to convert as much of the clopidogrel prodrug to its active form, meaning that I would be at increased risk of another clot, heart attack and death if I were using clopidogrel as a second antiplatelet medication. I have since confirmed my *1/*2 status by testing done in my lab.
From the personalized medicine standpoint, this testing allows for me to receive a drug that is efficacious (that will work for me; like prasugrel or ticagralor, i.e., something other than clopidogrel), will avoid an adverse event...hopefully, here avoiding a clot and death! Also, I will be adherent to the medication because it can be a matter of life or death!
So, time to look at some data and answer some questions. Click HERE to look at some data from the Clinical Pharmacogenetic Implementation Consortium (CPIC) and find the table that shows the frequency of the *2 form in various populations. Let's see which populations have the highest frequency of the loss-of-function *2 allele (gene form). Go ahead and put this in your comment. Also, think about what this may mean for a given individual from a specific population.
This is helpful in considering who may be more likely to have a loss-of-function gene form (allele) when there is no individual genetic data. Who has what frequency? Who would you be most likely to give an antiplatelet drug, other than clopidogrel, to? Of course, we REALLY need the individuals genetic data! By the way, the reason we can do all this is that technology has advanced to allow us to look at DNA more efficiently! DNA testing is more available and affordable.