Welcome
Personalized medicine and pharmacogenomics (the influence of genetics on drugs) is here. It is in its infancy and we all will watch it grow. From healthcare professionals to the general public, pharmacogenomics and the broader area of personalized medicine will present a learning curve.
This blog is made possible through an individual making their genetic information available.
As we learn what this individual's genetics are telling us...and what it is not telling us, we will discuss it. I am sure there will be many questions. We will have individuals from pharmacy, genetics, ethics, law, and other disciplines adding their expertise and thoughts to the discussion. I sincerely hope you will contemplate the information, formulate your thoughts, and participate in the discussion!
A preliminary look at drug response: Caffeine
By DFK | October 02, 2013 at 04:34 PM EDT |
6 comments
Here is my first entry related to drug response. I am starting off with a result that is supported only by one study...not the strongest of data, but interesting nonetheless. I know that some of the terminology can be difficult, so I "cleaned the background information up a bit! I added a few [bracketed] comments. Note, use an online medical dictionary to look up some of the terms you may not be familiar with.
Coffee, CYP1A2 [CYP = cytochrome P450, a metabolizing enzyme] genotype, and risk of myocardial infarction.
Source
Department of Nutritional Sciences, University of Toronto, Toronto, Ontario, Canada.
Abstract
CONTEXT:
The association between coffee intake and risk of myocardial infarction (MI) remains controversial. Coffee is a major source of caffeine, which is metabolized by the polymorphic cytochrome P450 1A2 (CYP1A2) enzyme. Individuals who are homozygous for the CYP1A2*1A allele are "rapid" caffeine metabolizers, whereas carriers of the variant CYP1A2*1F are "slow" caffeine metabolizers.
OBJECTIVE:
To determine whether CYP1A2 genotype modifies the association between coffee consumption and risk of acute nonfatal MI.
DESIGN, SETTING, AND PARTICIPANTS:
Cases (n = 2014) with a first acute nonfatal MI and population-based controls (n = 2014) living in Costa Rica between 1994 and 2004, matched for age, sex, and area of residence, were genotyped by restriction fragment-length polymorphism polymerase chain reaction. A food frequency questionnaire was used to assess the intake of caffeinated coffee.
MAIN OUTCOME MEASURE:
Relative risk of nonfatal MI associated with coffee intake, calculated using unconditional logistic regression.
CONCLUSION:
Intake of coffee was associated with an increased risk of nonfatal MI only among individuals with slow caffeine metabolism, suggesting that caffeine plays a role in this association.
Here is what 23andMe posted in my results:
Caffeine Metabolism
Some people get jumpy after drinking a single cup of coffee, while others can gulp down a Venti Americano [what is this?] without feeling a thing. Part of that variability is due to the development of tolerance by regular coffee drinkers; but there are genetic differences in how people metabolize caffeine as well.
The following results are based on
Preliminary Research for 1 reported marker.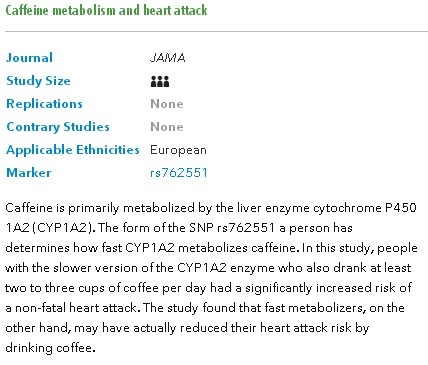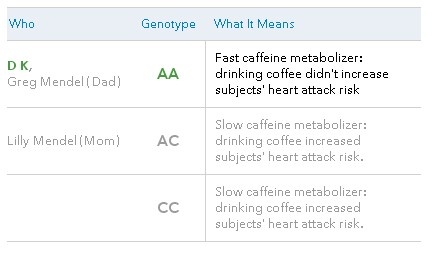 I find this interesting, because if I drink a cup of coffee, which I don't regularly at all, let alone a Venti Americano, I get so 'jittery' I can't stand it. Also, I once took a dose of a drug called theophylline for a study and I could not come close to sleeping! See if you can find out how theophylline is related to caffeine!
At any rate, my genetics say I am a 'fast caffeine metabolizer'. Thank goodness!