Welcome
Personalized medicine and pharmacogenomics (the influence of genetics on drugs) is here. It is in its infancy and we all will watch it grow. From healthcare professionals to the general public, pharmacogenomics and the broader area of personalized medicine will present a learning curve.
This blog is made possible through an individual making their genetic information available.
As we learn what this individual's genetics are telling us...and what it is not telling us, we will discuss it. I am sure there will be many questions. We will have individuals from pharmacy, genetics, ethics, law, and other disciplines adding their expertise and thoughts to the discussion. I sincerely hope you will contemplate the information, formulate your thoughts, and participate in the discussion!
The Personalized Medicine Pie and related items
By DFK | December 02, 2013 at 04:33 PM EST |
No Comments
There are many "sectors that must come together to make personalized medicine a standard. We talked about these briefly before. Look at the image below: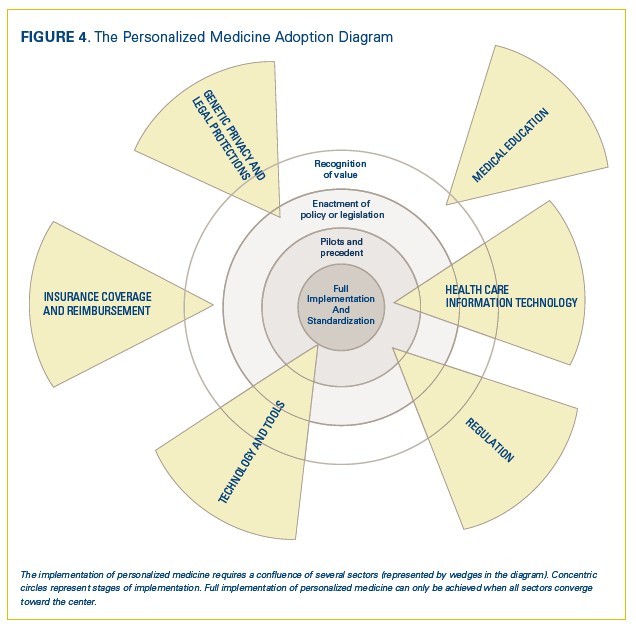 The image is from the Personalized Medicine Coalition the leading education and advocacy group regarding PM. You can find the document describing the 'pie' here. Recognize that as all of the pieces come together, we will be able to optimize personal healthcare. We will be able to get the right drug for the patient at the start, choosing a drug that is effective while avoiding adverse drug reactions, which will encourage patients to adhere to their drug therapy regimens. (i.e., they will not avoid taking their medication due to adverse effects). Including the patient's observations of their disease and treatment and related lifestyle, diet, and family history information (participatory medicine) is very important. That is a big piece of the pie...really important!
Again, the technology of DNA sequencing has allowed this to happen. We will not be able to afford to do studies to look at outcomes relative to all the different potential drug-gene interactions. We need to be able to do the best we can to provide the best therapies possible. From the pharmacy standpoint, genetics determines, in large part, the function of receptors, drug transporters and drug metabolizing enzymes.
While our understanding of drug-gene relationships is evolving, the use of genetics in drug therapy is being applied across therapeutic areas, with oncology and psychiatry leading the way. Here, in oncology tumor genetics can be used to guide some drug therapies, however, the genetics of all tumors have not been determined and likely will not be due to the 'chaos' that is cancer.
At any rate, one of the KEY changes occurring right now is the conversion to electronic records (EHR). This is being pushed by the government through the HITECH act which states that EHR must be used in a meaningful way after 2015. I have seen this change with my personal physicians office, where EHR implementation actually delayed genetic testing for clopidogrel use! Clearly there is a lot going on related to this field!
As we move forward, healthcare professions students, healthcare professionals, and the public at large will need to embrace PM medicine as it will help us move towards better health in an economically responsible way.